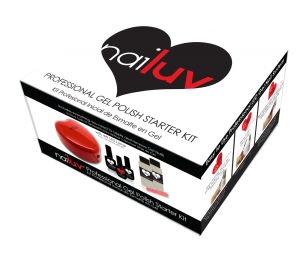 via Indiana Chronicle
PRICE:  $125.00
AVAILABLE AT: nailuvpolish.com & Nordstrom
DESCRIPTION: GEL POLISH STARTER KIT brings your favorite salon-nail experience right in the comforts of your home. The kit comes with NaiLuv Professional 4 watt LED Lamp to give your nails the salon-look you've always wanted:  HI-SHINE, SMUDGE-PROOF, CHIP-FREE and LONGER LASTING!!! Salon-finish nails done in minutes!
REVIEW
As a working mother with 4 young ones at home I don't really have the time (or resources) to go to the salon for a mani every 3 weeks. I loved the gel manicures that my coworkers had done and wished I had time to get one.
Enter the NaiLuv Professional Gel Polish Starter Kit.
I was so excited to try it! I decided to sit down on a Thursday evening to give it a go. How did it go? Well, I'll tell you.
I got everything set up at the kitchen table since that is where I had the most room and light. I read through all of the directions and then started the process. First there's the prep, pushing back your cuticles and such. You then start by applying the bonder, followed by the Dual Purpose Base/Top Coat, color (I did 2 coats), then the Dual Purpose Base/Top Coat again. (10 minutes total curing time) Lastly you wipe the tacky layer and you're done!
My nails looked awesome! As soon as I wiped that tacky layer I could go about my business. No worrying about smudging the ends or anything. And they stayed chip-free for over 3 weeks! My nails don't grow very quickly so I can get some extended wear. I got SO many compliments on my nails – people couldn't believe I had done it myself!
Altogether it took me 1 hour to do the whole thing. It took longer because I had many interruptions from my babes, but also because I could only cure or apply. I couldn't do both like what happens (so I hear) at the nail salon. Next time I'll plan to do it after bedtime.
The biggest drawback was removing it. First you have to lightly buff the nails to remove the shine. Then the instructions say to soak a cotton ball in the remover (provided) and wrap with aluminum foil to keep in place and check every 5 minutes to see if it will lift away with the orangewood stick (provided). It says soak time is usually 10-15 minutes. Now, maybe I'm just not very good at this but the aluminum foil would not stay on for anything and I really could only do 1 nail at a time because of that. That is way too hard and time consuming. Maybe the next time I'll get it to work so I can do them all at once.
All in all I am very happy with the NaiLuv Professional Gel Polish Starter Kit. I can't wait to try some other colors!