I want to tell you about our latest kid-venture.
Our youngest daughter, Hannah, was diagnosed with bilateral developmental dysplasia of the hip back in October.
My paternal grandmother also had this.  It typically happens with a first baby, girls, and breech babies.  (she was 2 for 3 on that one)
Once we got the diagnosis and met with her doctor, Dr. George Gantsoudes at Riley Hospital for Children at IU Health, we decided the best thing for her was to do surgery to correct it.  She is on the small side (as are all of my babies) so Dr. G wanted to wait until she was a little bigger to do the surgery.  If we hadn't done anything she would most likely have required double hip replacement in her 20s.  We didn't want blamed for that one!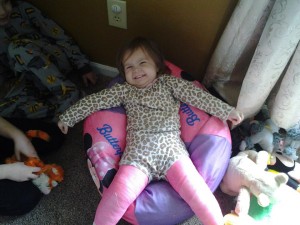 In March she had her surgery done.  It was a loooong day!  She was in for about 8 hours (surgery and MRI time).  She had an open reduction including pelvic osteotomy and femoral shortening.  She did magnificently!  We were in the hospital for 4 days total – even though we were told to begin with it would 1-2 nights.  Apparently when they do an epidural for pain control the anesthesiologists call the shots.  They wanted it left in for 3 days.  (poop)  No one likes to be in the hospital but if we'd been prepared for that long of a stay we would have had a better attitude about it.  At any rate she had excellent care during her admission.  She was placed in a spica cast to keep everything in place.
If you don't know what a spica cast is it's a cast that (in Hannah's case, anyway) goes from your belly button to your ankles.  It can be smaller/shorter but since she's teeny anyway it had to be "pants."
Coming home was a little scary.  Just trying to figure out how to change her diaper and how to position her to eat, sleep and for entertainment.  We got it figured out in a few days – not so hard as we thought.  A lot of the relief came from her spica chair.  My awesome brother, sister-in-law and friend made her the most awesome Walt Disney World Monorail spica chair!
She was in her first spica cast for 6 weeks.  She just had the second cast placed last Wednesday and she is still doing so well!   She has even pulled herself up to standing, like she's not supposed to.  She has so much of her parents in her.  Rebel.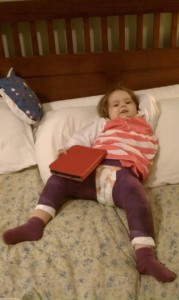 In 5 weeks she'll be out of this cast, have the plate in her femur removed about a year after that and then she'll just be on follow-ups… until she's 18!  That is fine, I'm just glad that we found out when we did and she's all fixed up now.