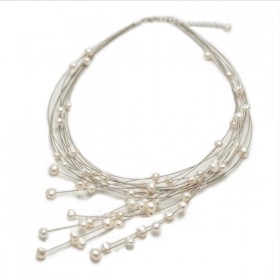 PRICE: $139.00
AVAILABLE AT: thepearlgirls.com
DESCRIPTION: Semi-baroque pearls scattered on ten strands of stainless steel wire.
REVIEW
Different from the normal "string of pearls", The Pearl Girls Samantha necklace is sure to turn heads. I wore it to my sister's wedding with a faux-wrap dress and it looked great! I got so many compliments on it. I haven't been a huge fan of wire necklaces in the past but this one is very comfortable to wear. This necklace makes a great gift for any woman in your life.