Day 7: What TO Say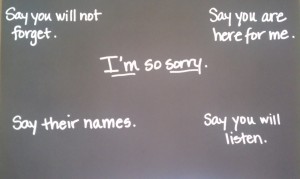 The most important… "I'm so sorry." Or even "I'm sorry" will do.
The second most important… say their names. Talk about them. I always think and speak of them so you don't have to be afraid to do it. You won't drudge up hurts or anything – I wear those everyday. They are always on my mind. You won't "ruin" my day. In fact, that is the best thing you can do for me.
Don't forget them. They are my children. I carried them, dreamed about them and their futures and gave birth to them just like my other 4 little ones. They just didn't get to stay.